The most awesome modern FE2 type game you're probably not playing... but should be.
Links
(Departure links to other Terminus related sites.)
Many Frontier/Elite players will be surprised to learn that Terminus based sites are not all that common on the web. Nothing like the Elite community by a very long shot. But, let's remember that this is a relatively new product...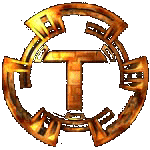 Official Terminus Website
by Vicarious Visions, Inc.

Visit the most impressive Terminus game server site on the web for On-Line Terminus gaming:
Terminus Point