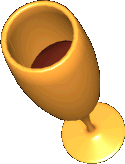 So, ya'wanna leave already... Well if you do, here's a couple of stops for you.
I'm not alone out here, there are plenty of other Frontier/Elite sites.
Here's a couple I recommend...
And oh, don't forget to take your drink...
Jump Gate

For a long time now, this site remains - all you really ever need to find everything Frontier/Elite (in all its various versions) on the web. This is dear Commander Zat Solo's DEEP SPACE OUTPOST. There are more links here than anywhere else - period. He's been at it for years... Its a great site with much to do and see, all very well done. If you surf no place else - go here. Click around and enjoy. Still the best!

A leader on the Frontier universe web scene... Commander Robin Sharrock's FRONTIERVERSE is the net essence of all things FE2. He is one of the FE2 faithful (like myself). Hosted by a dedicated webmaster, this is an excellent site - please have a look...

For an impressive ELITE/FRONTIER web experience, I also highly recommend Commander Dylan Smith's ALIOTH.NET. This is a capital must visit for Frontier/Elite players. The site is filled with interesting stories and unique features. This site also features the E-B-B-S (Elite Bulletin Board System) which is a local -hang out- for the faithful). Commander Smith usually posts a weekly news page of Frontier/Elite happens on the web which is highly informative and useful... You'll be sure to visit again and again.
Oh, decided to stay around? Good idea.
I never water down the drinks, anyway.
Here's one on the house...

Besides, Jenny's cute don't ya'think?
Now go back to the

Note to Webmasters: Please do not post me requesting your link here... Sorry.