Boating
WESTERLY 25 -


on NOV. 13th, 2004
Sorry, you are too late! Archangel sold in less than one week while being advertised on www.boattraderonline.com. But, why not read on and see what you missed! You never know... there could be another "Archangel" out there... but I doubt it! Oh, for all you January Soundings readers... sorry, Soundings requires all boat ads to be placed two bloody months prior to the issue... so I had to place the January 2005 ad by Nov 5th, 2004!! ...Sorry for any inconvenience.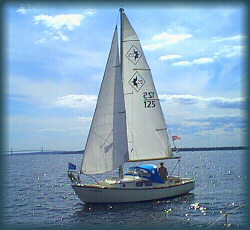 ARCHANGEL is a 1964 Westerly 25 (aka "Twentyfive") which I rebuilt over a three year period (1993~1996). She is a unique heavily built English extreme shoal draft coastal pocket cruiser - fully equipped, the hoist scale reads almost 9000 lbs. Archangel has a narrow beam of only 7.5'. Beneath her lovely waterline she has two bilge keels and a large skeg running center aft to the rudder. The boat is totally solid fiberglass construction with a beautiful mahogany interior and iroko trim. Under sail she is heavy and safe, with excellent sea keeping characteristics. With little heel and a smooth ride, she is a joy to sail. Please see the below for additional data, price, pictures, etc. (You can click here or the picture at left for a larger view.)


Archangel Specifications
See boat pics and read about Mic's travels in...

Length Overall
25 '1"
Beam Extreme
7' 5"
Draught
2' 6"
Ballast Total
1550 lbs
Total Sail Area
276 sq ft
Aux. Power
15 hp outboard
Hull Number
6625
Construction
Lloyd's Specs
Present Status of Vessel Archangel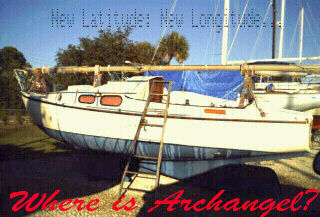 ARCHANGEL was shipped down to sunny Florida from often cloudy New England in the summer of 2003 (in hope of winter sailing adventures in Florida...). Awaiting a slip in the area; she was resting ashore when she incurred some minor cosmetic damage after weathering the wild 2004 hurricane season. She is currently FOR SALE (For that special someone who wants a truly unique craft...)

$2500.00*
avail. w/15 hp 20" 1994 Johnson Outboard - add $1000 (total $3500.00)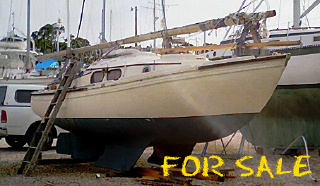 While she was very lucky not to get hit by falling boats (like many other less fortunate craft in the yard), she did receive some minor damage to her starboard forward section of wooden trim rail and bow pulpit - when yard personnel, involved in righting operations next to Archangel, tangled lines from the fallen vessel with Archangel's starboard rail. As a result, some of this rail is in need of replacement. Additionally, her - not so strong - bow pulpit was bent and later removed by me. (Click image at right or here for larger view.)
Archangel is offered FOR SALE at a really super cheap price! This is a great deal for a safe solid vessel. I am letting her go for much less than she is worth for several reasons:
If you want her "Bristol", there is a bit of work to be done - so this is factored into the price... However, if you are not a fuss-budget (like me); you can throw her in the water and be sailing in days!
The vessel is not located anywhere nearby where I am now living; this makes it difficult to work on.
My life has changed, and I do not have the time she needs.
I am traveling more by land than by sea these days.
I am looking for a quick sale.
Yes, I am still in love with sailing... and will always be a sailor!
Oh God, I still have other boats!!! Ugh.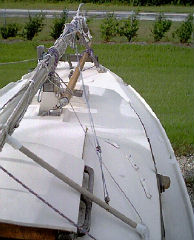 Archangel is offered FOR SALE with her full compliment of sails: main, working jib and genoa jib (all in excellent condition). She also comes with her custom made dodger and 1" stainless steel frame. Two new deep cycle batteries and excellent rigging (both running and standing) are additionally included. Her aux. power source; a little used 15 hp Johnson 20" long shaft (complete with gas line and twin 6 gal. gas tanks) is available separately. If you would like this matched component; add $1000.00 to the price: total $3500.00 (to sail or motor away)! You can also use almost any other smaller outboard that fits - should you not want the motor...
LOCATION: Archangel is located on the beautiful gulf coast, resting in a secure "do-it-yourself" fenced and locked boatyard south of Venice, Florida. This is an outstanding facility, one of the only boatyards on the southwest coast of Florida where you can work to your heart's content on your own vessel and even "live-aboard" if you desire! Additionally, it has an excellent travel lift available for easy and safe launch directly into gulf access waters. Plus - monthly storage fees are very very reasonable! What's not to love here, huh?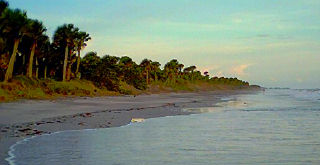 How does doing a little winter boat work under the warm Florida sun sound... followed by awesome sailing off stunningly beautiful white sandy beaches! Or, moor her, if you like in the quiet shallows of a palm lined cove. Hey, you could even just buy her for a winter retreat! (Remember, this is South Florida: winter climate has days in the 70s and nights in the 50s; and little to no rain all winter... prefect for boat work!) Really - it would be far less than renting a domicile in Florida for the winter... Now - Its all waiting for you! BUT, DON'T MISS OUT while I am temporarily out of my mind! SHE WILL NOT LAST LONG! (Also I am just as likely to keep her in a few more months... when I come to my senses!) Vessel has good Florida title and registration... so your ownership and title transfer will be clean and hassle free. *Sold "as-is" without warranty of any kind. Payment accepted ONLY via certified and confirmable bank check from a prominent Florida or national bank... and PLEASE - do not contact me if you do not have the cash!

Yeah, the deal was really that good! You totally blew it. Now go cry....

Sailing Season: 2004 - BOAT SOLD
Mic & Archangel: 1993 thru 2004

The 2004 sailing season has come and gone; and with it... I turn the page on another vessel in my life. Archangel spent the time ashore - uneventfully, in southwest Florida... (awaiting a slip) until the unwelcome visit of hurricane Charley. She was lucky to receive only minor damage compared to other boats in the yard. Now with time, distance, energy, effort, drive, and desire being what they are... the future of Archangel has been set to the helm of a another hand...
In moments of weakness or interests in other directions, I have sometimes put Archangel up on the "auction block". Well, I did this in early November 2004 (at a crazy super cheap price) and "poof" - she was gone. The lucky buyer could not have purchased a new vessel like her at more than 20 times the price paid... and it would never be built as well! I hope he finds as much enjoyment with her as I have. All the best to Archangel and her new skipper, Jim. Fair winds and gentle seas... long may she sail.
Check out the following advertisement:
Rare 1964 Westerly 25 (aka "TwentyFive") s/v named "Archangel" - a nicely restored, heavily built fiberglass English pocket cruiser (like a West Wight Potter or Com-pac on steroids). Off-shore capable, but shallow drafts a mere 2.5'. Fully beachable, can safely dry out on her two bilge keels and central aft skeg (great for areas of large tide changes or if you like to gunkhole). Very sea-kindly ride; sails almost flat - ladies love her. Heavy, solid, and safe - go anywhere in ultimate style and comfort! Many unique features. Oversized rigging, rich Iroko (African Teak wood) trim and cockpit seat tops. Equipped with custom dodger, newer sails and covers, new lines, new batteries, new compass, tapestry custom curtins, and depth sounder, DC and shore power systems... Custom gin pole allows for raising and lowering of mast by one person! New ablative bottom paint for 2003 season. *Aux. power available by a little used 1994, 15 hp Johnson outboard which - amazingly - totally retracts horizontally on railway mount into stern of the craft for safe storage and less drag underway! (Must see this feature to believe - great idea, very cool!) This vessel has a beautiful mahogany interior complete with custom English paisley cushions - very salty, totally romantic. Best of all, much loved and cared for over the years.. Currently in dry storage in Southwest Florida. Could use minor attention to starboard trim rail area (damaged by yard personnel). Also needs general TLC from extended storage. Currently in transit configuration (can be easily move by trailer or boat hauler) The ultimate personal vessel for the right individual or couple. A true "Adventure Machine". Live aboard in warm Florida! $2500. (*w/aux. outboard as above: add $1000. = $3500 total). Full details and pics at: http://www.planetmic.com/boat
More info. from Archangel's not so distant past listed below...
---
Vessel Interior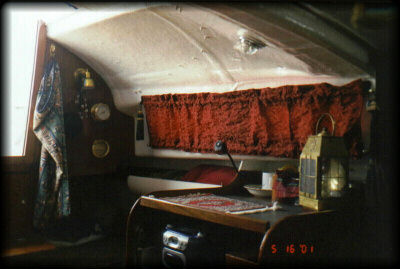 Archangel cabin Interior, port looking aft. Rich burgundy tones, Persian rugs, and polished brass fixtures adore her snug and comfortable below deck space.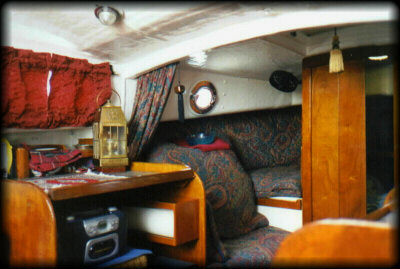 Mahogany and teak woods, fine fabrics, and white paint make for a very comfortable "British Style" decor; ready to comfort and sooth tired crew and captain alike.

---
Engine Compartment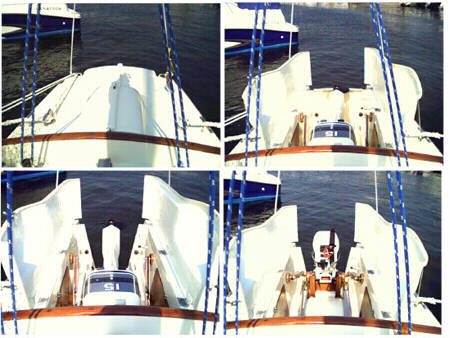 Nothing surprises individuals more than the Westerly TwentyFive's unique solution to aux. power. Here we see the roll out sequence for the powerful 15 hp Johnson long shaft. To deploy simply open the motor compartment and remove aft transom. Next roll engine down railway and lock into position. So easy, a child can do it... and retract it too... with one hand! Amazing British engineering.

---
Cockpit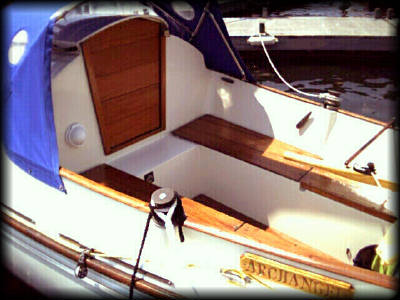 Archangel is fitted out with beautiful Iroko wood (African Teak) cockpit and deck panels; also a five panel wash slat door. A wonderful wood, far better than teak and very tough. As a surface to sit on it is cool in summer, warm in Fall - just what the Captain ordered and a real eye catcher - requires just a tad of attention to keep "Bristol", but worth it! In this shot you can also see Archangel's hand carved mahogany sign boards.
---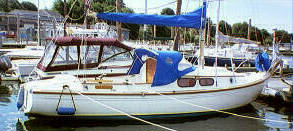 Archangel back in 1999 - snug in her slip. For much of each Spring, she underwent many hours of loving attention and reconditioning.Click here or the picture at right for a larger image.

---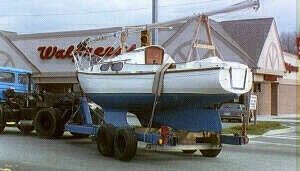 This shot shows Archangel on the move... coming out of storage on the boat haulers trailer in the Spring of 1999. Note her uniquely shaped bilge keels and central skeg are visible here.
---
Return to main "Sailboats" page