"All I ask is a starship, and space to steer her by..."

More... HYPERSPEED!
A catch all page... for everything else on Hyperspeed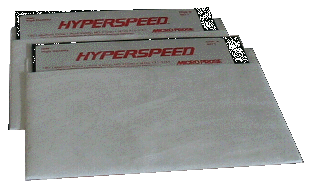 What's next for Hyperspeed Base?
Thoughts on continued development of this section...

Much of what happens with the future development of Hyperspeed Base depends on three factors:


How much I remain "into" the game...
The Feedback I get from you...
Whatever else I am involved with...

Currently, I do have plans for adding an interview with one of the game's designers... if he will be so gracious. Also, if the feedback and interest is good - perhaps a bulletin board or even a Yahoo Group might be set up.

If you would like to do your part, why not participate in the
Anonymous Feedback Form below:


HYPERSPEED: For Sale
Occasionally, I run across an additional copy and snag it! If I have an extra I would like to sell (mainly as a service to those who want the game)... it will be listed here:

Gotta have it? It can be yours!
IN STOCK: (1)
NOTE: (May 24th, 2013) - Vintage Hyperspeed is getting insanely difficult to find anymore! I currently have two complete boxed products for sale in excellent condition... one is still factory shrink wrapped! The price is: $169.95 US (sorry, I have had to bid nutty amounts for these now) - the price does includes free shipping anywhere in the U.S. via USPS Priority Mail. International shipping available - but will incur an additional charge of $37.00). The product will be placed in protective wrap and boxed packing. Payment is via PAYPAL only. Sold "as is", and all sales final. Please contact me to confirm the product's availability before sending funds. Thanks.


HYPERSPEED: Bad Disks Replacement
Provided by Popular Request:
Unfortunately (as noted previously), Hyperspeed cannot be offered for free download here without possible legal ramifications concerning copyright infringement. However, rightful owners who legally possess the game and printed manual can indeed get a full "zipped" copy of the program (all files included) below.
Your Hyperspeed Manual is required to proceed.
By clicking on the disks at left, you will be asked for a specific Username and Password, before file access is granted. These pass codes will be derived from your Hyperspeed Manual in the same manner in which copyright protection is accomplished within the game. Please look up the answers to the below questions and write them down; then click at left...

Username - Hyperspeed manual: Section 4.4.2 - What is the third word in line three (starts with "m").

Password - Hyperspeed manual: Section 5.3.5 - What is the tenth word in line five (starts with "t").



Feedback for Hyperspeed Base:
...because you care!
So, you have been spending a little time at Hyperspeed Base, aye? Why not be a good chap and fill out the quickie anonymous feedback form below... (You can handle one question, right?)